Micka - quick help
1. Foreword
Micka is the software for spatial data / services metadata management according to ISO, OGC and INSPIRE standards.
Supported standards
System is able to implement any standard based on XML document. For implementation separate administration modul is required
These standards are implemented:
Spatial data metadata (ISO 19115)
Spatial services metadata (ISO 19119)
Feature catalog (ISO 19110)
Dublin Core metadata (ISO 15836)
Profiles
Additional metadata elements and user metadata profiles can be used. These profiles are default in the system:
ISO 19115 mandatory elements
ISO 19115 core elements
ISO 19115 full standard
INSPIRE 19115/19119
MICKA profile (INSPIRE + ISO core elements and some additional to cover the most user requirements)
User defined
The user may change the profile during editing.
Language environment
Application interface if multi-lingual, currently 12 languages are supported.
The offered language list is set in configuration file. The interface language may be selected by clicking the falg on the page header.
Metadata itself may be also multilingual. The user defines main language and other languages during record creation or record administration. In all cases UTF-8 codepage is used.
2. Metadata querying
The application enables basic metadata querying. More complex queries are enabled via catalogue service (OGC CSW 2.0.2), which is a part of the application.
Pressing on left menu this query form is activated.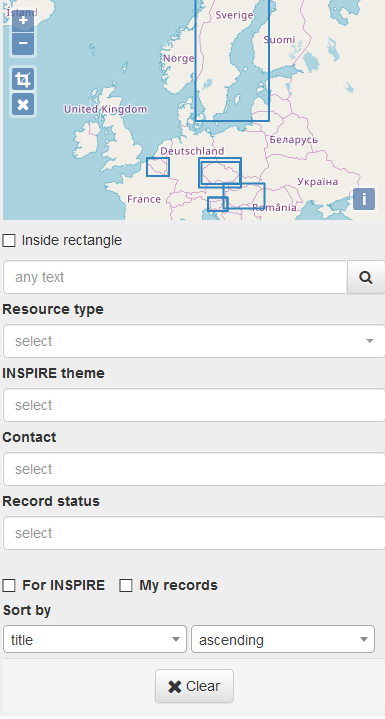 Legend:
Words:
Text searching. There are some possibilities:
In text - fulltext searching.
In keywords - only keywords searching. You may use thesaurus for searching.
Exact phrase - search for full entered text phrase in metadata.
Any word - Search metadata containing at least one of entered words
All words - Search metadata containing all words in any order
Topic category: Topic categories according to ISO 19115.

Temporal extent : Time extent. Please, enter the date in the YYYY[-MM[-DD]] format, e.g. "2006-02-19", "2006-02" or "2006".

Standard : Select standard name.

Language : Set main metadata language.

Extent : Set search extent.

From map: Set search extent from map.

Datasets fit the extent : Searches metadata with extent not wider than set search extent.

Map control:

- Zoom in. Click or draw on the map.

- Zoom out.

- Pan.

- Set search extent.

- Get search extent from map extent.

- Full extent.

ATTENTION! Query is intersection of all filled input fields (logical AND).


Results are displayed as:
where
is record type example. Record types may be distinguished by these icons:

Spatial data Metadata (ISO 19115)
Dublin Core Metadata (ISO 15836)
Spatial Service Metadata (ISO 19119)
Feature Catalogue (ISO 19110)

<user> is system user name of metadata record creator. It is displayed only when user has editing rights.
are buttons for editing/deleting records. They are displayed only when user has editing rights.
Record types are distinguished by background color:

private

/ public .
More in
metadata editing
.
Clicking on record title the summary metadata are displayed. The full metadata may be displayed by clicking "View detail" on the Summary page.
If more records are found, you may browse the listing pages on the bottom of the page.
3. Metadata editing
Logged users can create, edit, import/export and delete metadata records accordint to their rights.
4. Administration
Administrators have acces to this part.
5. Metedata editing guidelines
Metadata editing requires some knowledge of standards, hence some education training or some consultation are recommneded.
6. Creation INSPIRE Atom download service
This application enables creation of INSPIRE Atom download service withou any programming. Only by filling corresponding metadata.